Champion
Champion was a bay colt, bred by Christopher Wilson, Esq., in 1797, who sold him to Lord Darlington, after winning the St. Leger. Champion was got by Pot8o's, out of Huncamunca, by Highflyer, out of Cypher, by Squirrel (son of Old Traveller), out of a mare by Regulus, her dam, by Bartlett's Childers, out of sister to Mr. Honywood's Two True-Blues, by his White Arabian.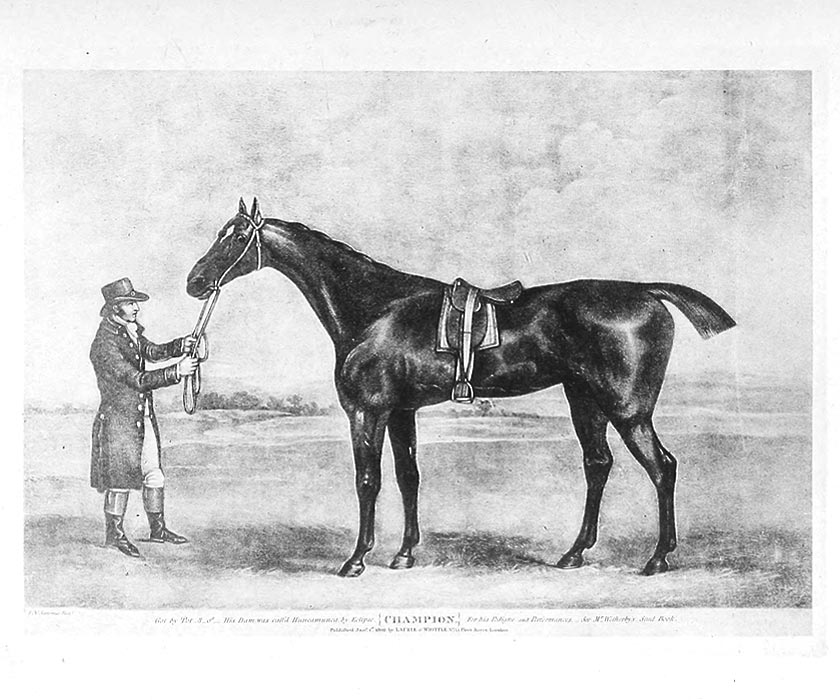 Champion's Performances
1800
At Epsom, colts 8st 3lbs, fillies 8ts (ridden by Clift), won the Derby Stakes of £1150, beating Lord Egremont's ch. c. Tag, by Precipitate, second, Lord Egremont's ch. c. Mystery, by Woodpecker, third, Lord Grosvenor's b. c. Quick, by John Bull, fourth, Lord Donegall's br. c. Fortitude, by John Bull, fifth; also, Mr. C. Wilson's b. c. Surprise (who made the running for Champion), by Buzzard, Mr. Ladbroke's ch. c. Lazarus, by Precipitate, and six others; 7 to 4 against Champion, 4 to 1 against Tag, 6 to 1 against Lazarus, and 20 to 1 against any other. At York, August 28th, for three year old colts, 8st 2lbs, fillies 8st, ran third in a sweep of 275 gs., won by Sir Harry Vane-Tempest's br. c. Rolla, by Overton (son of King Fergus), beating Mr. Gilbert Crompton's (afterwards the Hon. George Watson's) b. c. Lignum Vitae, by Walnut (son of Highflyer), second, and one another; 5 to 4 on Champion. S. mg., 8st 2lbs each, two miles, won 300 gs., beating br. c. Rolla, second, Lord Strathmore's b. c. (afterwards named Lethe), by Sir Peter, out of #Queen Mab#, and one other; 6 to 4 on Rolla, 5 to 1 against Lethe, and 7 to 1 against Champion. At Doncaster, colts 8st 2lbs, fillies 8st (ridden by Frank Buckle), won the Great St. Leger, beating Rolla (Ben Smith), second, Sir H. Vane-Tempest's b. c. Richmond (Shepherd), third, Lord Darlington's br. c. Agonistes (one of Sir Peter's best sons), fourth (J. Jackson), Lignum Vitae, and five others, all of whom were placed, owing to the straggling order in which they came in; 2 to 1 against Champion and Agonistes, and 5 to 1 against Richmond (a son of Walnut, and winner this year of the Cup at Richmond, from which he was named). Champion was now sold to Lord Darlington.
1801
At Newmarket, Craven, 8st 7lbs (7lbs extra), won a sweep of 200 gs. each, beating the Hon. G. Watson's br. c. Triumvir, by Volunteer, both four year old. At Newmarkt (First Spring), 7st 2lbs, A. F., match for 300 gs., h. ft., received 150 gs. (forfeit) from Mr. R. Heathcote's b. h. Schedoni, by Pot8o's, six years, 8st 8lbs. S. mg. 8st 7lbs, A. F., won 300 gs., beating Mr. Cox's b. c. Cocoa-tree, by Woodpecker, 6st 8lbs, and Mr. R. Heathcote's ch. f. Georgiana, by John Bull, for years, 7st 7lbs. At Newmarket (Second Spring), 7st 10lbs, match for 200 gs., beat Mr. J. Heathcote's b. h. Warter, by King Fergus, aged, 8st 6lbs; 4 to 1 on Champion. At Doncaster, 7st 7lbs, four miles, ran third for the Cup, won by Mr. P. Wentworth's b. c. Chance, by Lurcher, four years, 7st 7lbs, beating Mr. Johnson's br. h. Sir Solomon (who, the day before, had won his great match against Cockfighter), by Sir Peter, five years, 8st 7lbs, second. Four ran; even on Sir Solomon, 5 to 2 against Champion, and 3 to 1 against Chance, who, on the same day, won the Doncaster Stakes, four miles.
In 1802 Champion broke down in running a match for 1000 gs., 7st 13lbs, against Lethe, five years, 7st 7lbs, and was sold to Colonel Lumm, and sent over to Ireland for the Stud.
[Taunton, Thomas Henry: "Portraits Of Celebrated Racehorses Of The Past And Present Centuries", 1887]